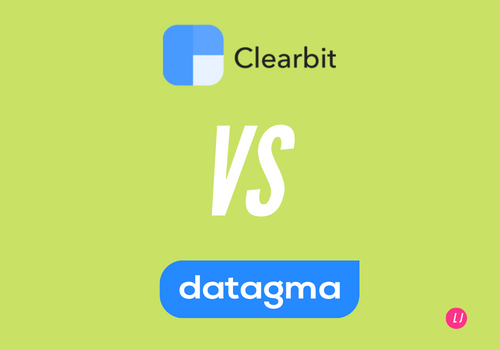 Datagma vs Clearbit: Which Should I Use?
If you are looking for a Clearbit Alternative; you are in the right place.
Data enrichment can be a tricky business. That's why platforms like Clearbit and Datagma exist; they give you the data you need to prioritize inbound leads or reach out to the right clients for your business. You need enriched data to enhance your CRM; even if you have partial data. However, the question remains: which option is the best for your business?
Obviously, we're a little biased toward ourselves. But in the air of honesty, we want to present both the good and less-than-good of both Clearbit and Datagma, so you can consider choosing a Clearbit alternative.
Here are the pros and cons of using Clearbit compared to our services here at Datagma:
First, Here Are The Cons of using Clearbit
Let's start with the negatives so that we can end this on a positive note. 
Clearbit is Not GDPR-Compliant.
Clearbit technologies are 100% based on a large database of information. Specifically, they store emails & associated data. In accordance with the GDPR, or the General Data Protection Regulation, the processing is only allowed by the GDPR if either the data subject has consented or there is another legal basis. Therefore, using Clearbit's platform is illegal within Europe or to gain personal information from European citizens. 
There is, however, a workaround. Clearbit has a GDPR Suppression Setting that will keep information from European citizens or those with an unconfirmed location from being returned during data enrichment. You can read more about that feature here. 
Once you activate the GDPR setting in Clearbit, you will not have any data linked to Europeans.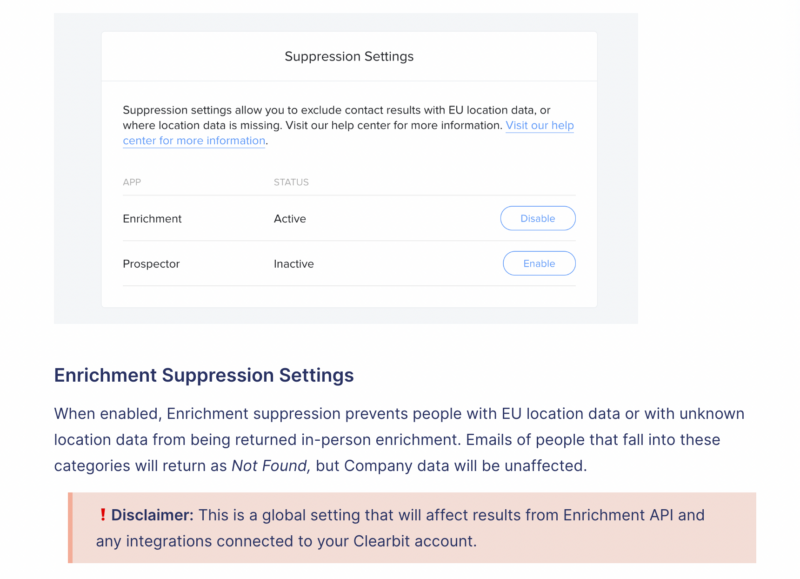 But what about us? Datagma has no database, and everything is based on crawling public sources in real-time. We can only access publicly available information at the time of your search. Therefore, we are 100% GDPR Compliant without having to turn on extra settings. 
Considering a legal and compliant Clearbit alternative is essential for the possible legal impact on your business.
Clearbit Is Limited To Stored Data
Since we don't have a database, Datagma isn't limited to data stored in a database. When you use us, we immediately crawl the internet for publicly available data.
The issue lies with Clearbit, which relies on stored information in its database. If a contact moves to a new company recently, then they will not have updated information on the lead, like a new email or new place of work; you are now working with out-of-date information. You could also miss out on leads that haven't been entered into Clearbit's database yet. 
Both of these issues mean there is some risk when using Clearbit; you might miss out on leads that would otherwise benefit from your services. 
Clearbit Asks For More Money Upfront
Clearbit asks for an upfront payment for a full year of service… but what if you don't need their services for a full year? What if you decide to go with someone else? Unfortunately, the only option to pay for any of Clearbit's services is an entire year at once. Sometimes, the higher price also isn't feasible for younger companies.
With Datagma, however, all our services can be purchased through a monthly subscription, and you can cancel anytime you want, with no commitments necessary. This means you only have to pay for Datagma when you're using it. 
Clearbit Only allows Emails and Domain Names as inputs.
When you consider choosing a Clearbit alternative, you need to consider the possible inputs you can submit for enrichment.
With Clearbit, the only information allowed to be inputted are email addresses or domain names. This makes enrichment campaigns harder, as sometimes you have other information about your leads.
If you choose to go with Datagma, you can input emails and domain names but also full names, company names, and even social profiles. Thanks to all these possible inputs, you can even enrich partial data.
Clearbit Finds Less Person Data Than Datagma
Since we do live crawling, we can find more data about the person than they do; We found approximately the same number of data about companies - around 85% - but far more than them when you are looking for persons data. We have a 86% hit rate for personal, whereas Clearbit's hit rate was only 49%.
When you choose to use Clearbit, you're missing out on 37% of the personal data you could use during the enrichment process. 
Now, For Clearbit's Positives
Clearbit Returns Data faster
In most cases, Clearbit responds in less than 1 second, which is impressive. They use stored data with their services, so they only have to search their own system; which takes less time than real time live crawling.
Datagma returns data slower, since we crawl the internet in real-time to find the data you need for your project. However, it should be mentioned that Datagma's return time is only a few seconds more, averaging around 3 seconds to live crawl for data according to your filters.
If your project needs a response time under 1 second, go with them.
Clearbit Has Integrations That Datagma Does Not. 
Datagma has integrations with N8N, Zapier, Integromat, Captain Data, Surfe, Leadjet, Hubspot, Clay.run, and we also offer an amazingly easy-to-use API. This can be plenty of tools to run your business and utilize your newly enriched data. 
This is especially convenient when transferring your business from its current data enrichment platform to ours if you're already used to integrations like these. 
That said, Clearbit is integrated with some tools we are not yet, like Calixa and Tray.io. If you need either of these tools for your business or are, at the very least, considering them, it could be best to go with Clearbit's services. 
With all these elements, you can now consider choosing the right Clearbit alternative.