Why Datagma is the best alternative to Dropcontact
See whether you should use Datagma or Dropcontact for
your contact enrichment.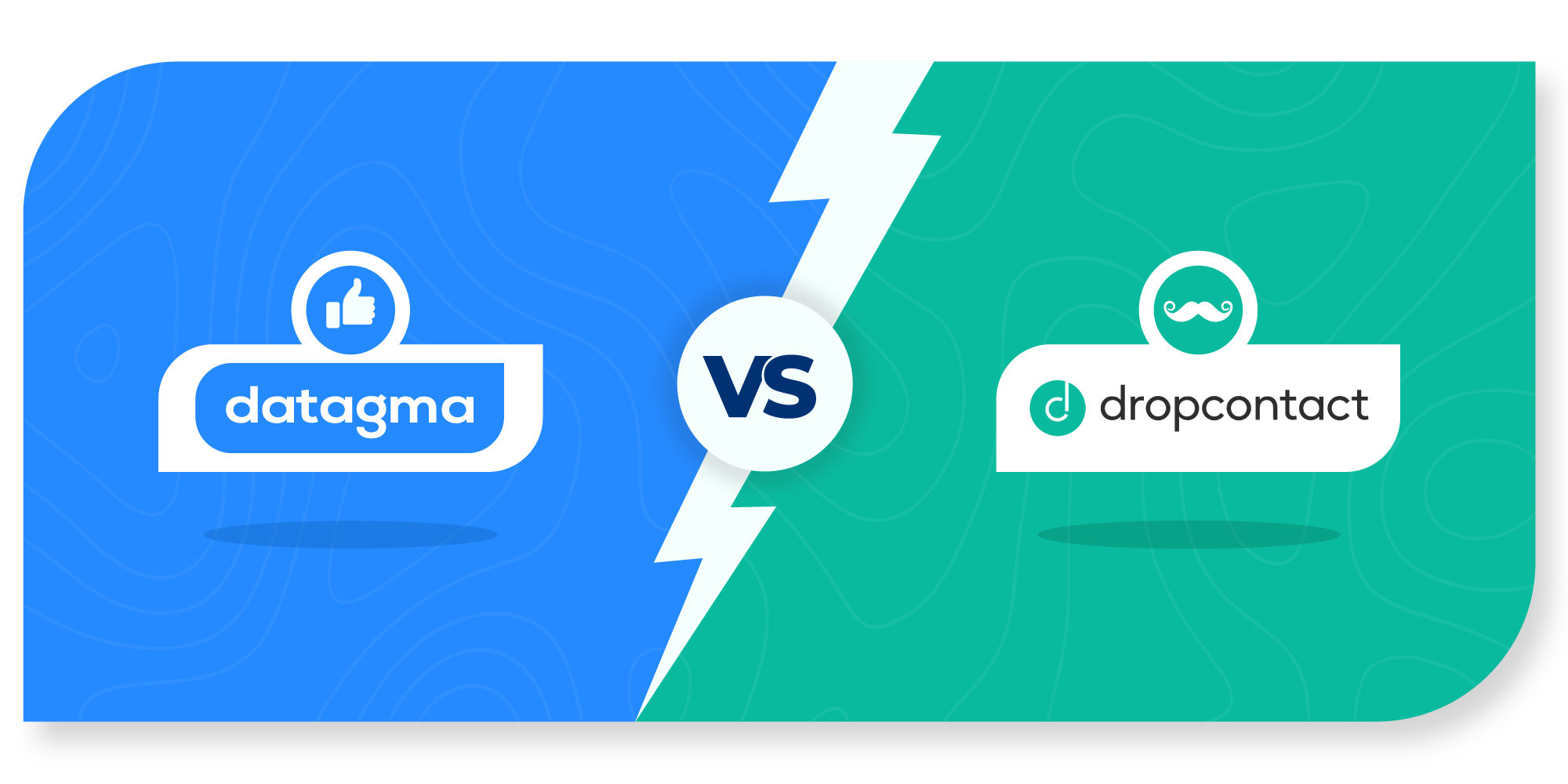 We Love Dropcontact
The team at Dropcontact has built a great product to help companies enrich their B2B contacts. And if you're here because you're evaluating Datagma vs. Dropcontact, or looking for Dropcontact alternatives, then you're already doing the right thing by finding a product that will help your sales and marketing team have more data to work with.
What's the difference between Datagma and Dropcontact?
Datagma gives you 10x more information
When Dropcontact gives you, in the best case, only 10 data points, we can deliver almost 100 data points for some companies, including tags, financials, and website information.
Datagma have a ready to be used API
Dropcontact API is complex to use. You have to make a first POST request and then many GET requests to check for the API response. You will lose tons of hours to integrate it, while if you use the Datagma API, you only have to do one GET call that you can even test in your browser
Datagma doesn't charge you addon or setup fees.
Dropcontact charges you more when you want to use their CRM integration, or they ask you to pay for addons if you're going to find the Linkedin profile of your prospect. It's a con.
Datagma does accurate job change detection.
On 1000 people who have changed jobs recently, Dropcontact detected only 32% of the recent job changes, while Datagma detected 97% of them. We can also tell you which new hires are replacing the job left in each company.
| Key Enrichment | Datagma | Dropcontact |
| --- | --- | --- |
| Enrich with Job Title |   | |
| Enrich with SIREN Data |   | |
| Enrich with Industry |   | |
| Enrich with Exact Number of Employees |   | |
| Enrich with amount raised |   | |
| Enrich with Seniority & Role |   | |
| Enrich with technologies |   | |
| Enrich with company tags |   | |
| Enrich with website data (traffic) |   | |
| Enrich with similar company |   | |
| Features | Datagma | Dropcontact |
| --- | --- | --- |
| Job change detection |   | |
| Advanced Job change detection |   | |
| Enrich a list of employee in a given company |   | |
| Enrich with verified email |   | |
| Email to Data enrichment |   | |
| CRM Integrations |   | |
| Zapier & Integromat Integrations |   | |
| Enrich with mobile phone number (For non european target) |   | |
| Enrich with website data |   | |
Start today and get free credits
It's time to do full enrichment
Dropcontact does only partial enrichment cause it doesn't enrich the company.
When Datagma enriches your customer's data, you get the complete picture of your prospects like the exact number of employees, the amount raised, a list of tags.
All these points that allow you to better segment end personalize, Dropcontact can't.
In input, Dropcontact enrichment is limited...
Dropcontact does a decent job when you give them a name and a company together. However, it becomes a pain when you want to enrich something else.
If you give them an email, they only try to figure out the person's first and last name, which will bug out in 85% of the case.
If you want to enrich a Linkedin Url, you have to pay an extra addon.
If you want to enrich only a company name, you can't;
Datagma includes everything, so you can give us anything you want in input, and we will do the job.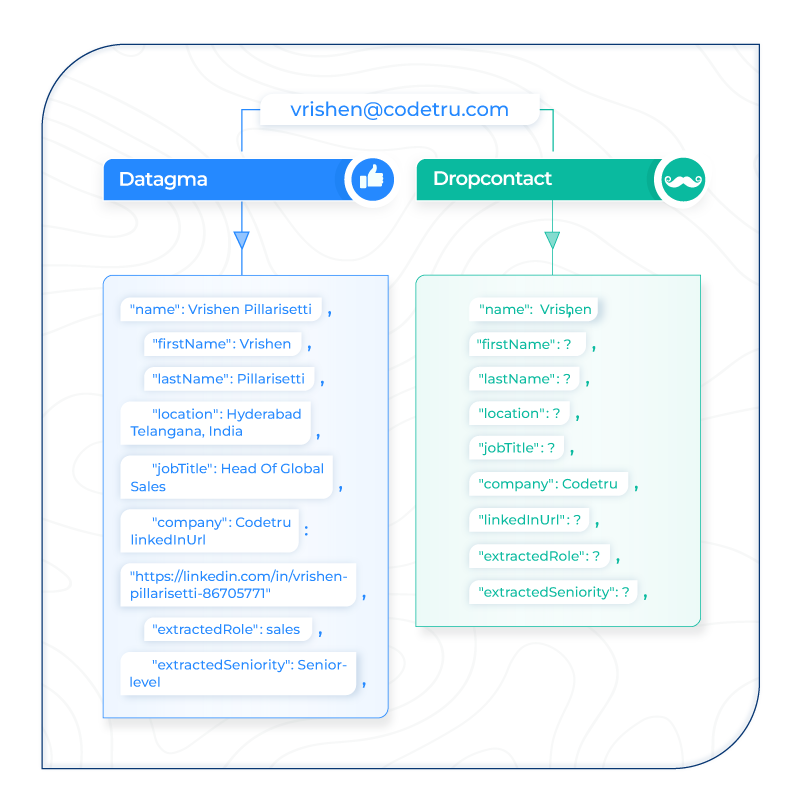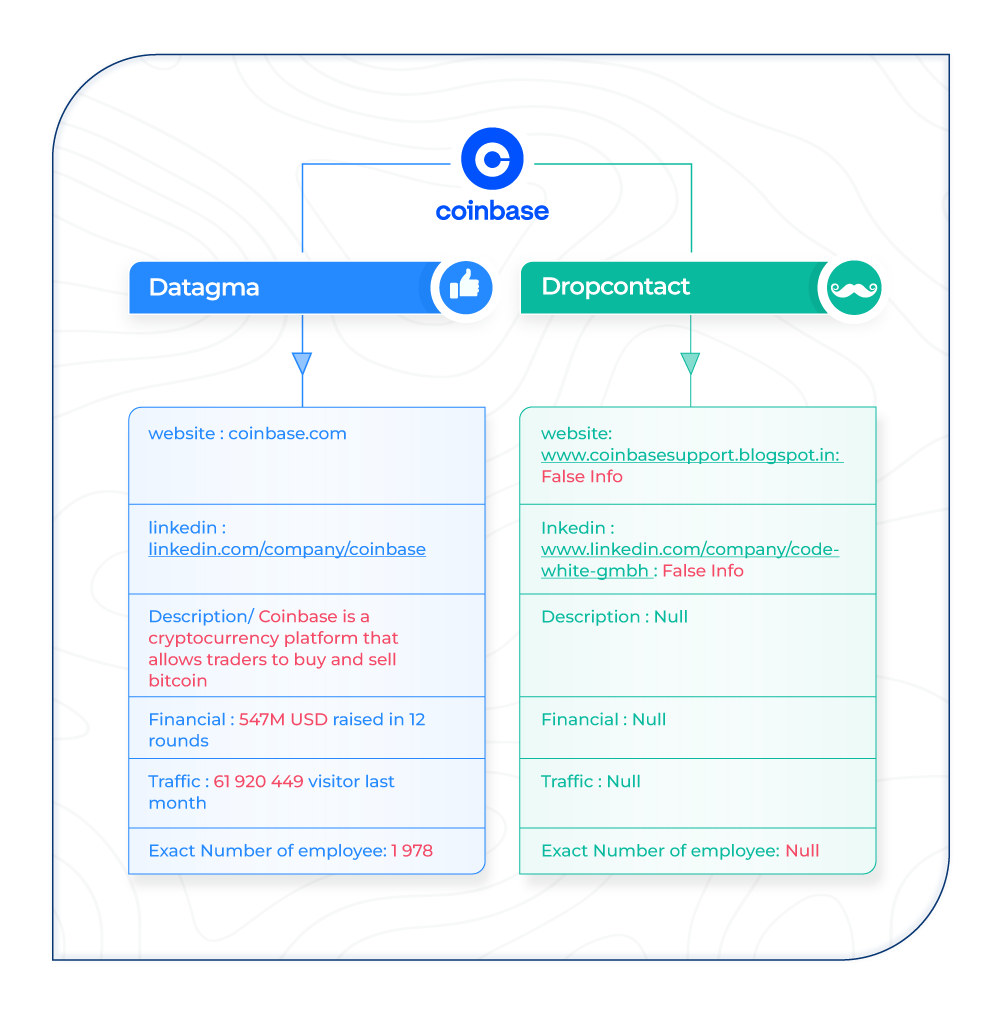 ...But it's even worst in output
Ok, stop the bullshit here. You can't pretend to do data enrichment if you can't give a piece of minimal information about companies. You have tons of companies in your CRM, and you don't know what they do.
We are giving 10 times more information than Dropcontact.
If you are working as a salesperson and you want to implement a lead prioritization system, Dropcontact can't help you; Datagma can.
If you are working in marketing, you need to know who the prospect's in your CRM are. For example, You want to identify the B2B company that raises more than 20M. Dropcontact can't help you. Datagma can
Ok, you are an ABM guy, you have a list of companies, and you need to identify the CEO in each of them? Dropcontact can't help you. Datagma can
All your data projects are possible with Datagma
Get a clear view of any company
When a lead comes through, it's essential to learn as much about the company without spending hours on it.
With Datagma, you get more data points on the leads and thus a much clearer view of the company than Dropcontact.
Example: If you get a lead from a company like «GoCardless», Dropcontact will not update any information about the company apart if you can read french; in this case, they give you useless generic details.
With Datagma, we can segment the company in several categories: FinTech, Payments, Online Payments, Direct Debit, Payment Collection, BACS, Bank to Bank Payments.
Much better, isn't it?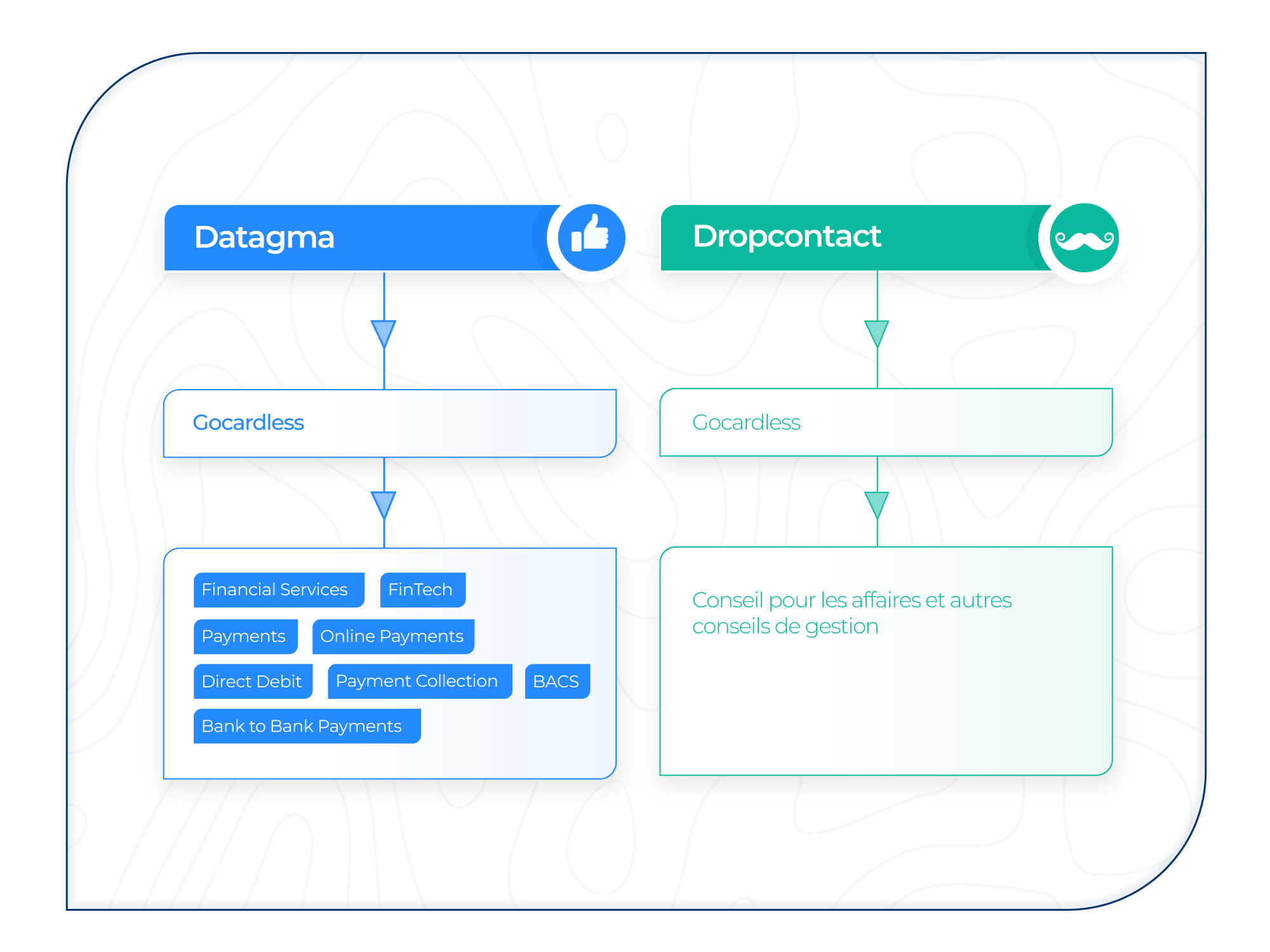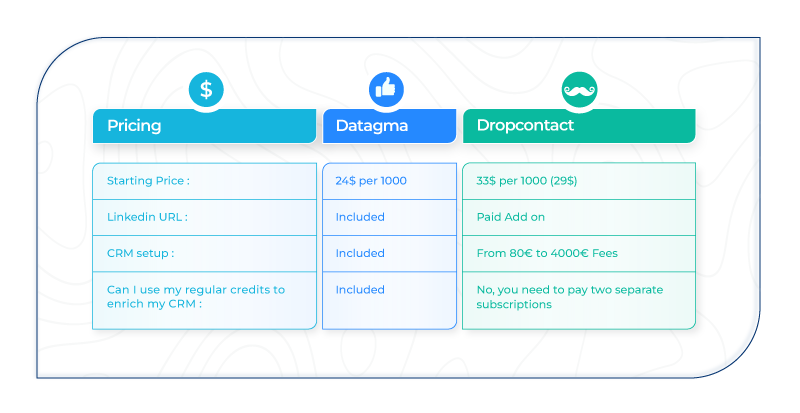 Stop being fooled, try honnest pricing.
Dropcontact is like a Low-Cost airline Company.
You can get a ticket for cheap. But of course, you want to take a suitcase? So you have to pay.
Do you want to enjoy a meal during the flight? Unfortunately, you still have to pay.
More hanging room for your legs? They take you for a patsy.
Datagma includes everything in his pricing, and you have nothing to add; you have all the options from day one, and we will never ask you to take a second subscription.
What people say about us?

Ionut Neagu
CEO, Company name

Esther Howard
CEO, Company name

Robert Fox
CEO, Company name
Undoubtedly one of the best Dropcontact alternatives available
We switched from Dropcontact to Datagma for everything in camp CodeinWP more than 4 years ago. We found a lot more value with Datagma for the price because we pay for the volume of emails sent rather than the number of contacts we store. Additionally, the marketing automation features are much more robust, making Datagma undoubtedly one of the best Dropcontact alternatives available.
They Won't be going back to Apollo.io!
Switched from Apollo
So far the transition from using another service (Apollo) has been seamless. I noticed that the Datagma platform is more user friendly and not as clunky as Apollo. We were looking for a platform that was a bit smarter/easier to use"
Great customer service – awesome system
"Their subscription model (emails sent, not number of people in your database) makes it a perfect option for any site company. No need to worry about growing your database and seeing your costs explode. The only thing that matters is how many emails you sent per day (free plan) or month (paid plan)."
Datagma is the best!
"I switched from Apollo to Datagma because of their great service and all that they provide, even to people like me with small email lists. Now I am growing my list and better yet, bringing great value to my readers. Thanks, Datagma ."