Enrich incomplete file with Datagma
Upload your incomplete file to Datagma. Watch as missing columns are seamlessly filled, ensuring comprehensive insights and enhanced accuracy.
More than 50 columns added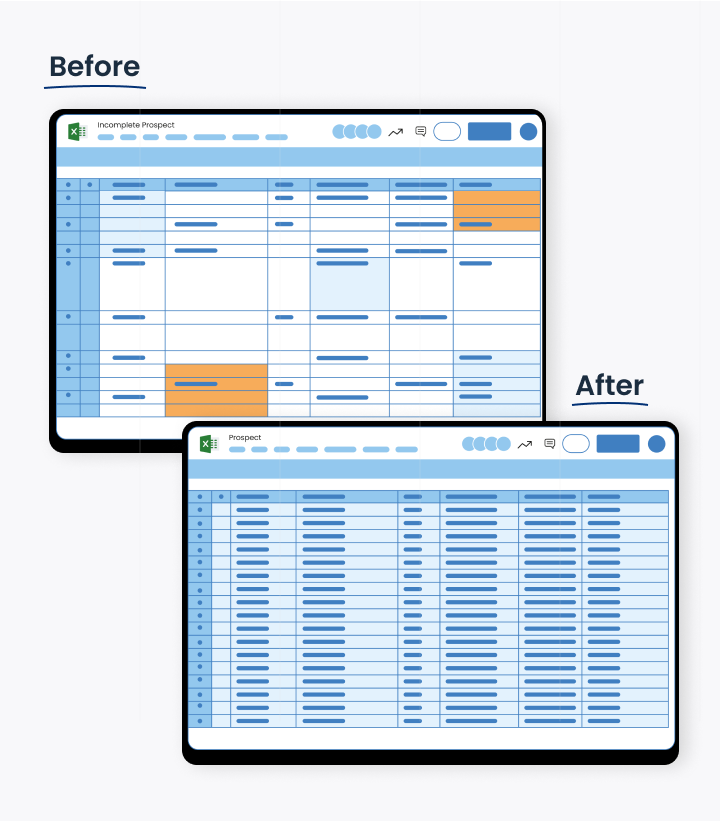 Empower your data with Datagma's enrichment options
Find Email Only
Need email addresses for your contacts? Upload your file and let Datagma identify and fill in the missing email addresses.
Mobile Phone Number
Enhance your contact list with mobile phone numbers. Datagma's efficient algorithm helps you complete your data with ease.
Find Employee
Searching for specific employee information? Upload your file and let Datagma enrich it with valuable employee details.
Twitter Enrichment
Gain deeper insights into your contacts' online presence. Datagma's Twitter enrichment option adds valuable social media information to your data.
Track Job Change Detection
Stay updated with your contacts' career changes. Datagma helps you track job changes and keeps your data current.
Full Enrichment
Looking for a comprehensive solution? Datagma's Full Enrichment option combines various attributes to provide a complete overview of your contacts.
More than
75 points
Enrich your contacts with mail & phone numbers massively
Upload your incomplete file and we will fill the missing columns with mobile phone numbers, verified work email address and more than 75 data points about the person and his company. Start from any inputs.
Only real time data
No database - 100% GDPR compliant
No need of session cookie, no limitations
Only verified emails
Only mobile numbers
Detect Job Change automatically
Be alerted in real-time when one of your prospect or client change job and moves to a new company. Update your sales team and Keep your CRM fresh.
Contact warm people instead to contact cold people
Outreach at the Right Time
Keep your CRM fresh & updated
Reduce churn & increase upsell
Works with File Upload, HubSpot, API, Zapier & Make.com
Find employees at specific job titles in a list of companies.
Upload your target list for companies, specify roles and countries, and instantly get contact info for key players in any industry. Less guesswork, more connecting. Find the right people fast with Datagma.
Identify all the CEO or C-Level in a list of companies
Works by File Upload
Works by API
Get the full picture about your targets
Find emails from Twitter usernames
Upload your list of Twitter usernames and we will enrich them with email, other social URLs, skills, interests, and much more.
Build a custom audience from your Twitter audience
Contact people who follow your competitors
Works by API or File Upload