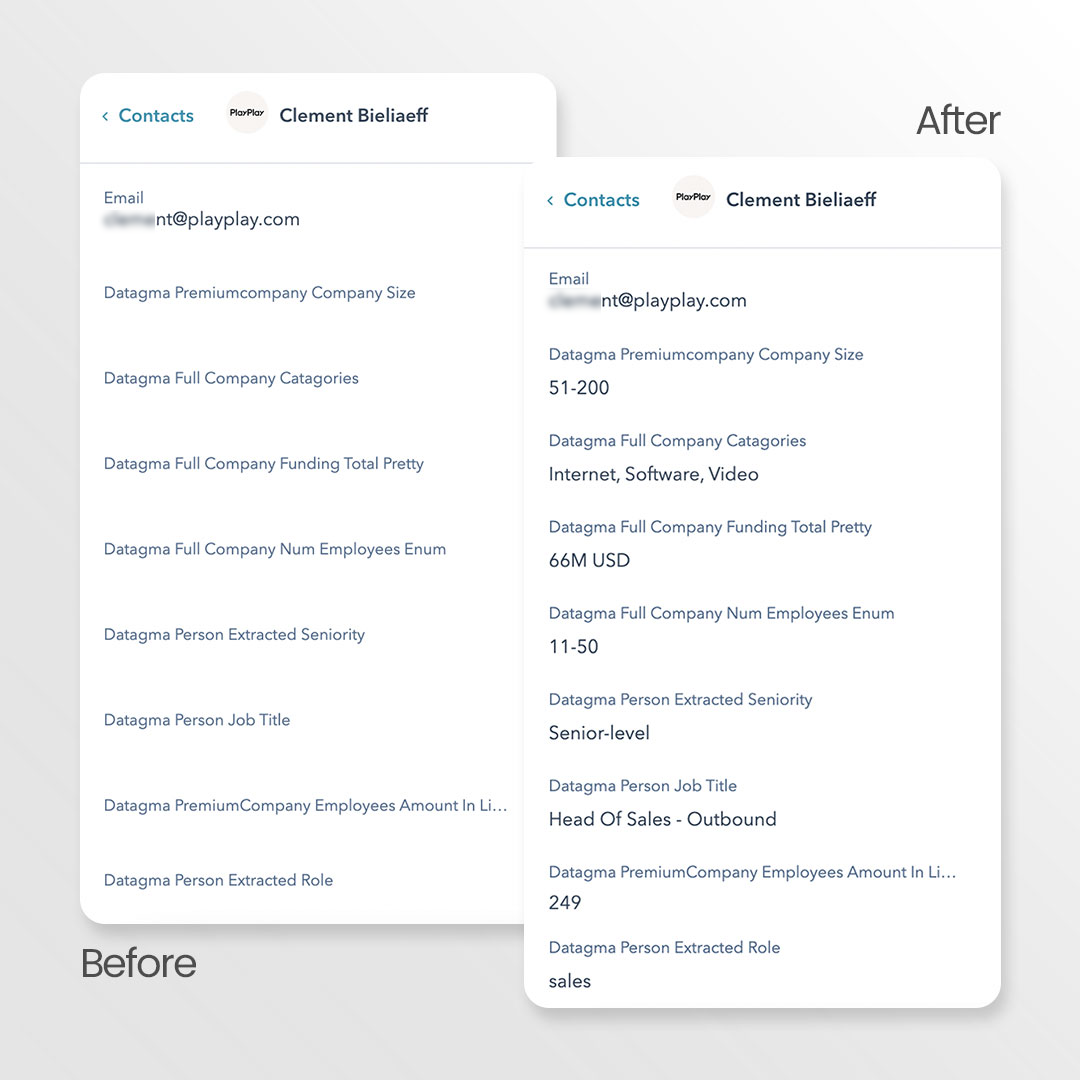 How to improve your free-to-paid rate by 134% with Hubspot enrichment
Ever heard of Exotec? How about EcoVadis or Ivalua?
Before writing this article, I didn't know them either, yet these are three unicorns. If tomorrow the head of sales (replace sales by what you want depending on your industry: HR, data, legal, marketing...) creates an account on your website, wouldn't you like to know in real time? Thanks to Hubspot enrichment, it's easily doable. Here is how.
At Datagma, we know how to enrich data.
Here's a step-by-step description of the different actions we've implemented to do Hubspot enrichment and use all new data in our whole stack.
It allows us to increase our free-to-paid conversion rate by 134% over the last two months, and which will allow any PLG company to improve its conversion thanks to data.
Before we get into the details of our process, here's what we do.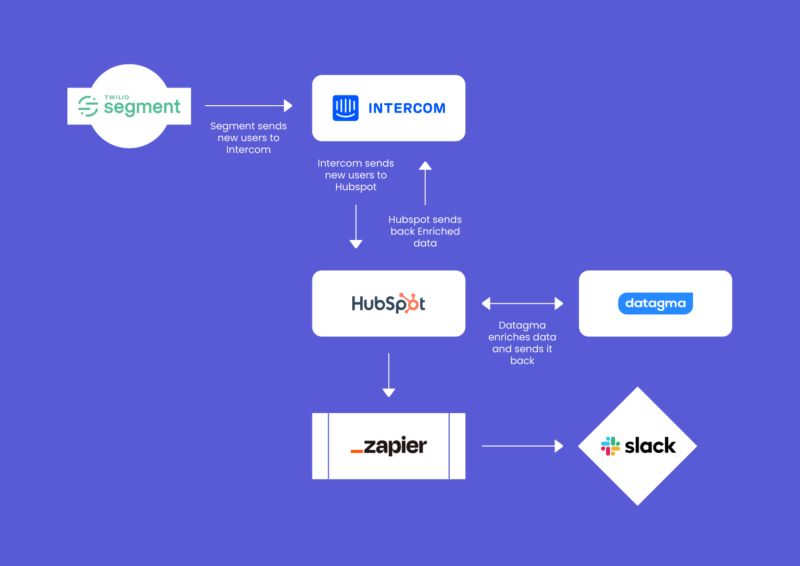 I am the founder of a bootstrapped SaaS.
I can't afford to have 50 salespeople, and I want users to upgrade as much as possible on their own. We are developing a 100% product-led growth model.
On our first 10K of MMR, the onboarding (both on the site and in the emails we sent) was geared towards getting as many demos as possible, but there comes a point where I had so many people sign up per day that I was spending too much energy on useless demos for curious people that I couldn't convert—even with the strongest determination.
We had to prioritize our actions and time so we could devote it to those who were most likely to convert.
To this end, we enrich each new user of our site with data related to the person and his or her company in order to:
customize onboarding
manually engage the prospects with the most potential
offer maximum context on our live chat
To achieve this, we use a native integration of Datagma that allows Hubspot enrichment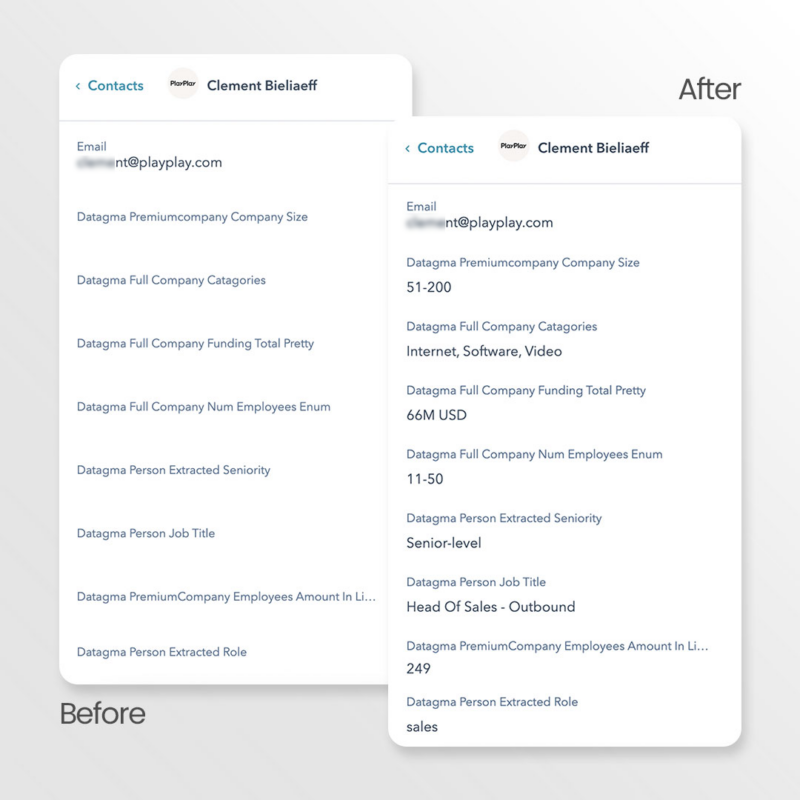 Hubspot then distributes data to the other tools in the stack.
Here's how to proceed in detail.
Add all our new users in Hubspot
I'll tell you a little secret: I don't have a customer relationship management tool, and I don't use Hubspot in place of one.
However, it is the base of our pyramid that will allow us to perform more specific actions.
I use Hubspot to host data that will then be sent to all the other tools in our stack.
The ultimate goal is to send enriched and actionable data.
To achieve this, I first need to add all our new users to Hubspot so they can be enriched by Datagma.
There are several ways to add new users to my site in Hubspot:
Integromat, Zapier, N8N...
the HubSpot API
Segment
the fourth solution (the cheapskate)
The first one was not retained because it was not economically practical enough, given the number of actions per day.
We didn't consider the second one for long, either: too technical.
The third one requires a Hubspot Enterprise subscription, so we also dropped that one.
Ultimately, we kept the fourth option:
As soon as a user signs up on our site, Segment passes the information along to Intercom.
And since Intercom is synchronized with Hubspot (we'll come back to this below), this user will also be added in real-time in Hubspot.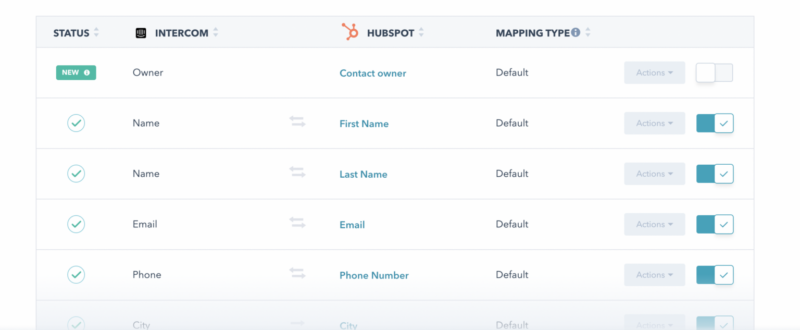 Activate Hubspot enrichment  contacts
Easy one! That's great news because that's our job.
At Datagma, we have developed a native integration with Hubspot that allows you to enrich all Hubspot contacts by email address automatically. We instantly add more than 50 fields (see the full list here).
You can enrich all contacts in the CRM or only those in a particular list, whether dynamic or static.
To do this, head over to the Datagma integration page and select "Hubspot."
Click on "connect," then select the list(s) you want to be enriched.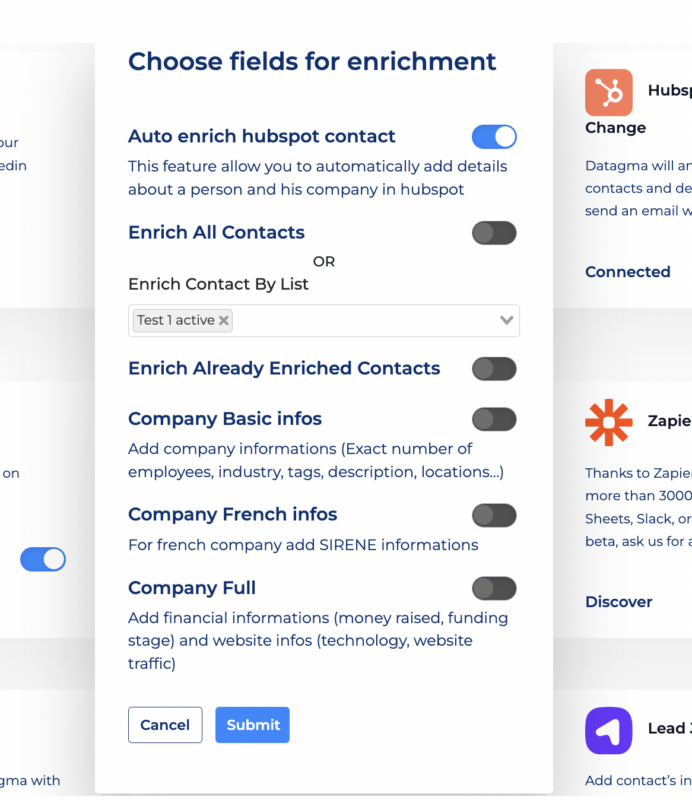 Next, we'll:
Enrich all your contacts already present in Hubspot (or on the list you have selected)
Enrich all new contacts in real-time right as they're added.
Send these enriched contacts to other tools in the stack
Now that your contacts in Hubspot are enriched, you need to be able to obtain this data from your stack's other tools
This is where the Hubspot Operation Hub comes into play. Its purpose is to synchronize Hubspot with the other tools you use.
Two main tools here: Intercom & Slack
·       Add a note in Slack with the description of each new user.
If an executive from a company that raised money last week registers on your site, wouldn't you like to know in real time?
So you can take back control of your automations or track your live session?
Well, here it is.
We currently have about 50 new registrations per day on Datagma; some correspond more than others to our ICP (ideal customer profile), whether it be for the company (for us, SAAS, recruitment firm, or even better SaaS in recruitment) or the person, and whether it be for their role (sales, data, or growth) or their seniority (head, CXO).
When a user matching the ICP signs up, I want to personally initiate the conversion as soon as possible.
This means I want to take him out of our automatic onboarding emails and send him a message I will write myself.
So, I linked Hubspot to Slack to post all new sign-ups directly to Slack with all the enriched details about the person.
It looks like this:

As I'm connected to Slack all day long, I never miss an exciting signup, whereas when I only had the email notifications, I could miss little nuggets (I take my example above, but an email in @exotec.com doesn't speak, whereas is already more pictorial.
I use Zapier to automate this (Trigger: new contact in Hubspot -> Action Slack Message).
If you want a detailed playbook, you can read how to get notifications in slack for new HubSpot contacts.
·       Enrich all Intercom messages to personalize onboarding
Intercom is the central point of our onboarding and marketing.
Onboarding messages are sent from Intercom
We have a multifaceted product that is aimed at developers (API), sales (our Chrome extension) or marketing (CRM enrichment), and the onboarding must be different for each user.
Since our onboarding emails originate from Intercom, I send all the data enriched in Hubspot directly to Intercom—again through the Hubspot for Intercom application in the HubSpot operations Hub.
I can then create rules for sending emails, as shown below: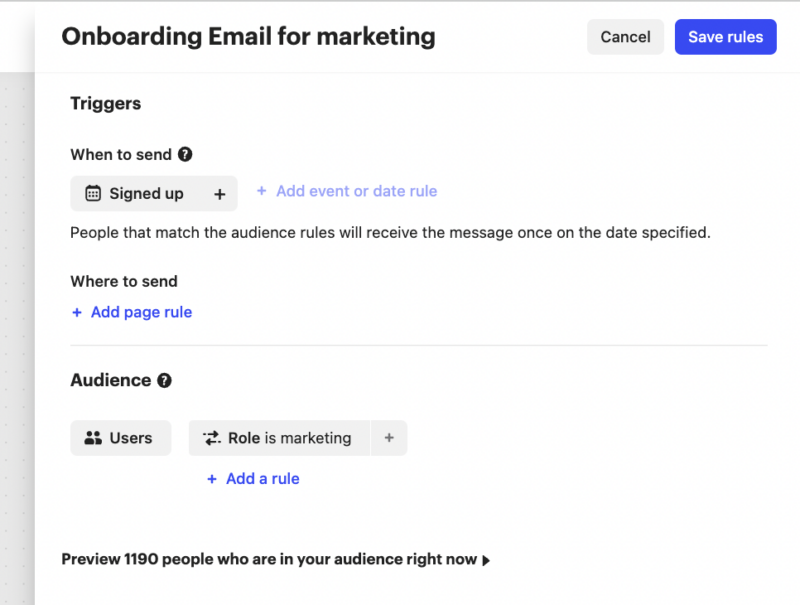 Thus, each user has a personalized onboarding according to his role.
Intercom is our live chat
Many sales are concluded live, by answering a user's question in the chat.
I also like to have as much context as possible when I converse with someone.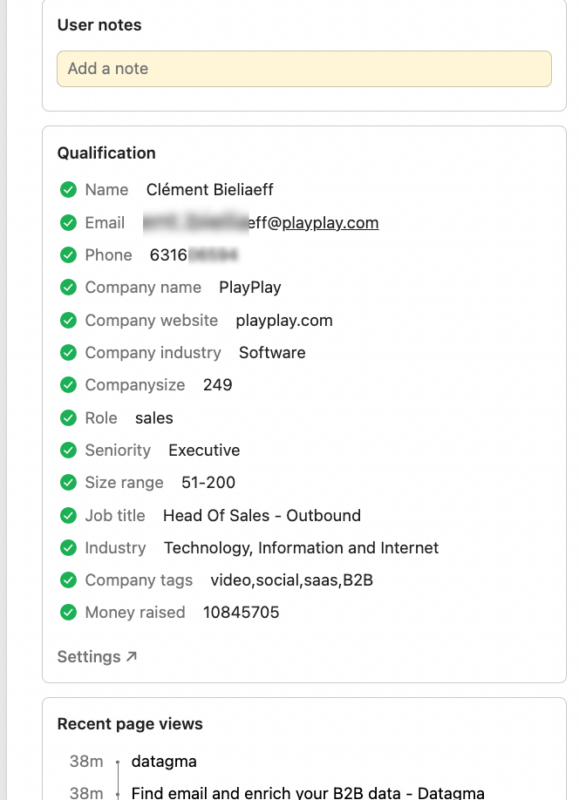 On usage (and thank you segment that sends all data live to Intercom) but also on PKI. Who is he, how many employees does the company have? Have they raised funds?
Datagma makes all this useful data available to me directly via Intercom.
As you can see, the use cases are unlimited. As soon as you have the data, you have more control and waste less time.
Whether you're in a PLG or not, Hubspot enrichment is crucial, and Datagma can help you.