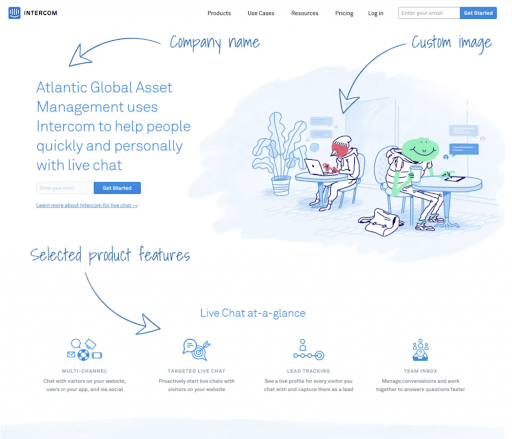 High-ROI B2B Lead Generation Strategies That Work - Secret Tips and Case Studies!
If you search "B2B lead generation" on Google, you will find thousands of strategies to scale your lead generation game. Before you take any action on those unverified "expert" strategies, there are several things to consider.
Do you have the right resources?

Are those strategies worth your time/money/effort? In other words, are they ROI worthy?
Will they work for you?
If you are cash-rich with millions of dollars to spend on Super Bowl ads or Olympic games, B2B lead generation is a different game. You don't care about the ROI. But when you are a small startup, your campaign ROI is very important. And if you are reading this, chances are that you are a startup with a limited budget. 
According to Demand Gen Report 2021, 44% of marketers want to better measure the ROI of their demand generation initiatives. This shows that most marketers are not measuring their campaign ROI.
78% of marketers reported an increase in their demand generation budgets which proves that lead generation is still the most important aspect of a marketing strategy. It is the lifeline of your business.
So here are some high-ROI B2B lead generation strategies for you:
1. Solve your market's problems for free with content and tools
What are the biggest problems or challenges your market is facing? It may or may not be related to your product or service. If you can help your market with their problems for free, they will become your fans and they will buy anything you sell.
Make them aware of their problems in achieving their goals. Then give them an easy solution to solve their problem on their own.
Creating problem-solving content is one of the best ways to educate your market for free. Yet only 48% of the B2B marketing teams have a content marketing strategy. 
If you are struggling to create an effective content plan, start by finding questions that your audience is asking on various industry forums, comment sections of online groups or during events. Answer those questions in an easy-to-digest format. Make them actionable.
Make sure you understand your target audience, their problems and challenges well before you offer actionable solutions that they can implement on their own.
Here are some examples:
Are you a SaaS tool for sales teams? Help your audience become better at prospecting, writing sales emails, sales pitches, closing clients, handling objections, etc. with or without using your tool.
Are you an IT recruiting agency? Help HR teams get better at finding talent, interviewing candidates the right way, and communicating with the candidates. Show them how to build an effective hiring process.
B2b Lead Generation Secret tips: Free content and tools
Client Case studies are a great way to generate leads. A detailed case study offers insights on how a client achieved their goals or KPIs and how similar companies can also achieve the same results with your product. See the case study example of

Zendesk featuring Airbnb

, and another one from

App Annie

. 

Strategically add content upgrades or lead magnets in your articles to get more leads. These lead magnets can be a more detailed version of your article, checklists, spreadsheets, original research, etc. 

Create a content plan based on the traffic potential of the keyword you are going for. But write the articles that are shareable between colleagues on Slack. 

Use no-code tools to create databases, calculators, quizzes that are engaging and useful to your target audience. Moz, Buzzsumo, Hubspot are all great examples of companies building free tools to get more leads.

Run giveaway/sweepstake promotions to get tons of leads - they work like a charm!
Case Studies: Free content and tools
Ahrefs: With their content, Ahrefs help marketing teams get better at growing traffic to their site. They have created in-depth articles, videos and even courses to become a digital marketer.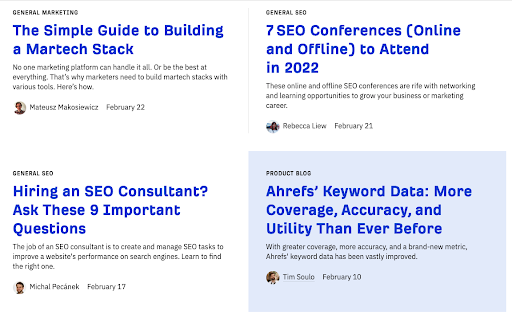 Shopify: Their audience is anyone who wants to start an eCommerce business. They have a huge library of posts on how to start a business, how to choose a company name, how to find suppliers for their products, how to design an eCommerce store, how to build traffic to it, etc. Shopify has a suite of free tools like business name generator, logo creator, image resizer, slogan maker, etc. to help their audience.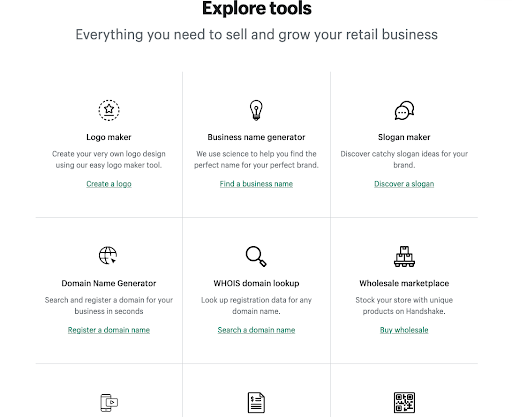 2. Build your community
While content marketing can help you put yourself out there, active community-building is the key to your B2B lead generation and your growth.
How is building a community advantageous for lead generation?
You will not only get referral customers from your community, your community will also give you feedback to improve your product. They will share your content with their network and also give you more ideas for content, product and marketing.
Not sure how to build a community?
Engage with your audience, make them a part of your journey, collaborate with them, build partnerships with them, reach out to your community for feedback, and build an environment where everyone can engage with each other.
One of the most common questions people ask is the choice of platform to build a community. The answer to this might surprise you, but it's actually very simple.
Choose a platform where your audience is already there - Twitter, YouTube, Podcast, Instagram, TikTok, LinkedIn or any other platform.
Building a community takes time and consistency. Choose what's convenient to you and your audience to engage. If you are good with words but are camera-shy, start with Twitter. If your audience is active on LinkedIn, build an audience there.
Start with one platform and slowly move on to the next.
B2b Lead Generation Secret tips: Community building
Collaborate with other brands, influencers and experts to produce more content. You can do the same with tools or original research. Appear in industry podcasts or YouTube channels. Write guest posts. Conduct joint research. Build a course with another company. Possibilities are endless.

Do original research. Build innovative tools. Produce something new that people haven't seen before. See an example of

original research

that generated tons of leads for Moz and Buzzsumo.

Building a community is a moat around your business. Your competitors can't easily take away or replicate your community. Your customers will become your advocates. They will share your content with their network, thus generating more leads for you.

 

Focus on the quality of your community before you focus on the size of your community. A highly engaged but small community can get you more leads than an unengaged, large community.
Case Studies: Community building
AppSumo: Appsumo helps entrepreneurs with SaaS deals and has a highly engaging and passionate community of entrepreneurs who love to interact with their brand. They ask questions and review deals that are useful to the community. Look at the number of reviews each Appsumo deal gets on average and you will know how dedicated their community is.

Lemlist: Lemlist is one of the best examples of companies with a vibrant community of sales and marketing professionals. They have built a Facebook group to facilitate discussions among the community. 
They also promote a user each week who has a successful outreach campaign, thus engaging with the community actively. 
If you are a B2B marketer or lead generation professional, you must be active on Linkedin. Have you already seen Linkedin posts from the Lemlist team? 
3. Personalized automation
Since you are out of resources and time, automation is a great way to do more with less. There's one problem with automation - it is easy to NOT personalize your message and you will fail to generate leads. 
Whether you run ads, write content, build landing pages or send emails, personalizing your campaigns is the most ROI-effective way of generating leads.
Adding personalization to your automation brings specificity and you will convert more visitors into leads and more leads into paying customers. The way you add personalization is by getting more data about your visitors or leads by either asking them information when they sign up or by using data enrichment tools.
B2b Lead Generation Secret tips: Personalized Automation
Enrich data using tools like Datagma to get a full profile of your leads just from their email addresses. You can learn so much about the company and the contact which you can use to reach out via personalized email or run ads for specific companies or similar audiences with specific offers. You can even follow up and touch base with your existing contacts when they change jobs for new business opportunities.
Build personalized landing pages for different use cases, target personas, industries, etc. to be highly relevant to your users. Build 10 landing pages and drive specific traffic through each to increase your leads. Use tools like Unbounce to build landing pages fast. But if you want to fully personalize your automation, use dynamic content on your pages. See Intercom's example below.

Outreach with personalized messaging and images can generate 15 times more leads than a generic automated outreach. Test different personalization hooks and angles to learn what works for you.
Case Studies: Personalized Automation
Intercom: When a visitor arrives on Intercom's website, they see their business name/details, industry visuals and relevant features on the landing page. Using this strategy, Intercom achieved a 300% conversion uplift.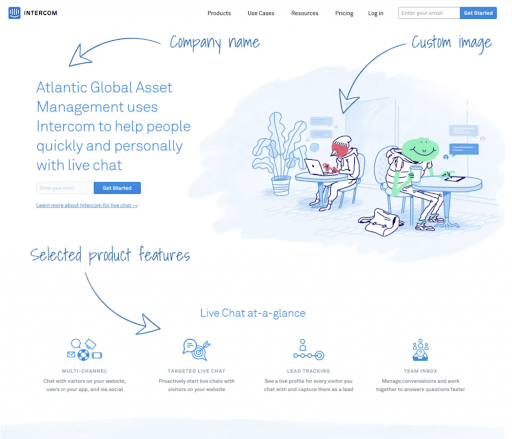 Lemlist: Their personalized outreach strategies are benchmarks for cold email campaigns. They use various personalization strategies like this coffee chat template, or Tiramisu template to really speak to the prospect with the personalization while keeping it all automated.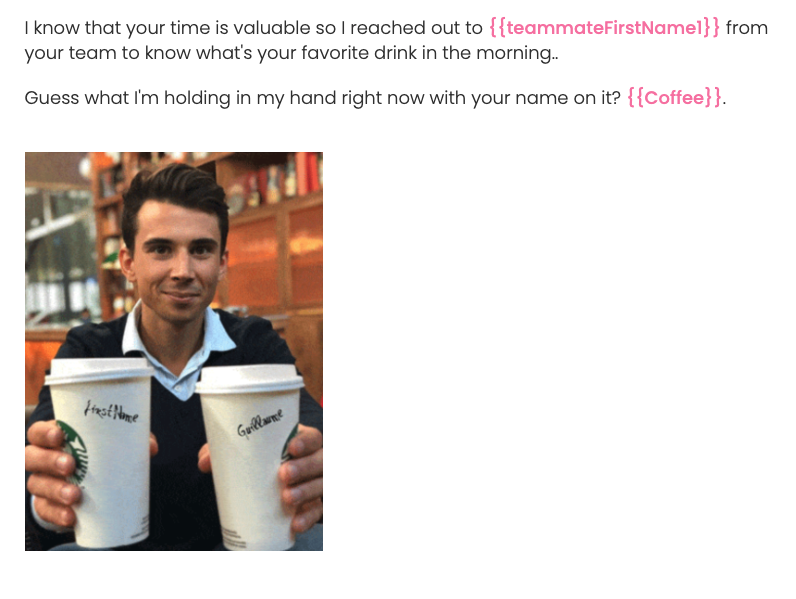 If you want to automate your lead generation, we wrote an excellent article on it.
There are so many things you can do once you have more resources and can spend more budget on testing new strategies. But if you are an ROI-focused organization, use these strategies, tips and examples to improve your B2B lead generation campaigns. Let us know what works best for you.