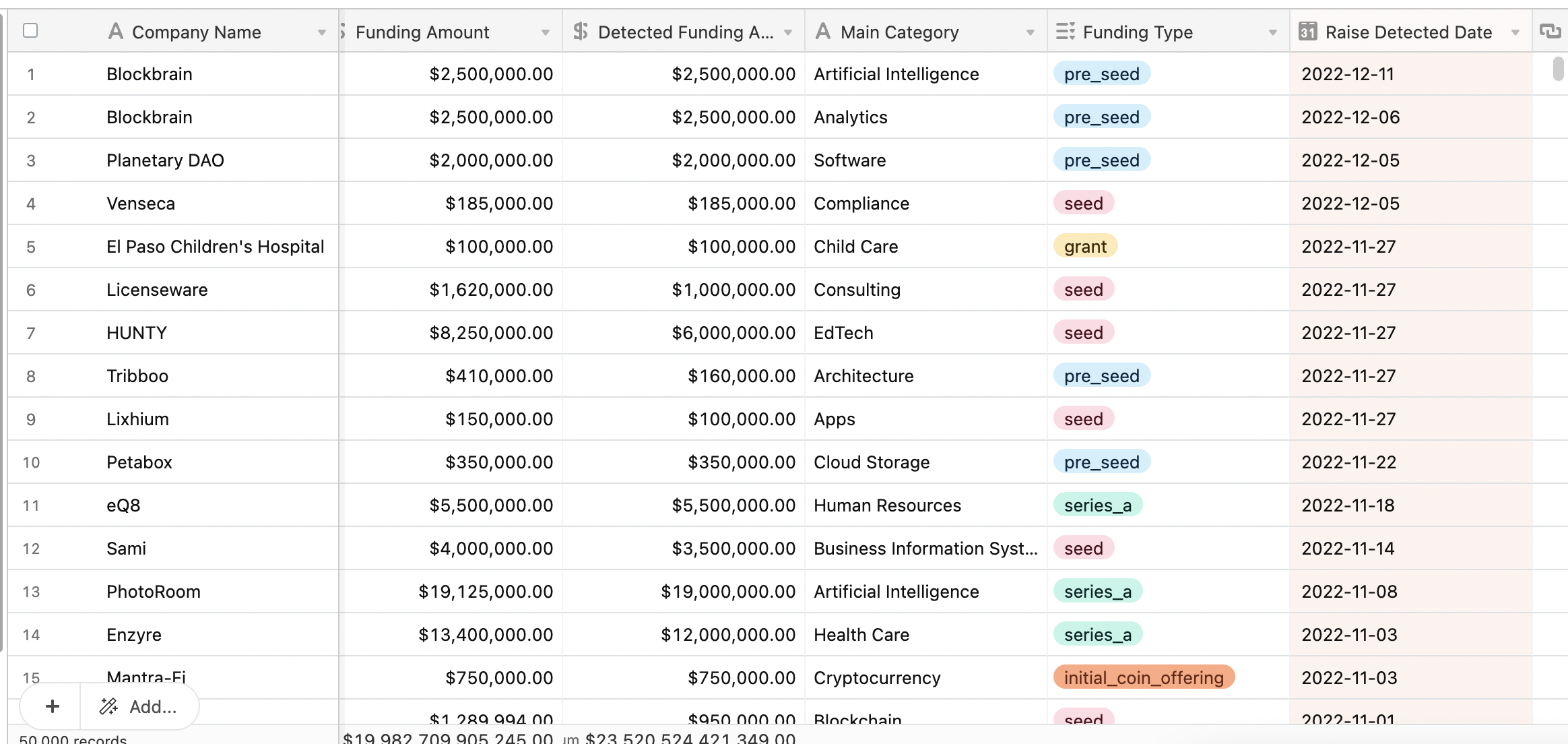 Are you a blogger or a journalist who writes about recently funded companies? or a B2B company looking to reach out to startups who've been funded recently? Are you looking for a new job, or you might be an executive search firm trying to help startup founders build their team.
Then you might be scouring through Techcrunch and other startup media to find out about newly funded startups, right?
By the time you read about a startup that you want to contact, find their decision-makers, and contact them, everyone in your industry has already contacted them.
In the game of outreach, timing is everything. If you don't connect with somebody when they need your product or service, converting the client can take weeks or months.
What if you could find out about recently funded companies before everybody else and get their contact details as well in real-time? You'd feel more powerful than before, right?
That's where Datagma comes in!
Datagma has built a new tool that lets you find out all the recently funded startups in any country in real-time. And because we are an enrichment tool, we integrated our powerful search engine to also provide you with the email addresses and the mobile phone numbers of their employees, as well as their Linkedin profile. And it's completely free (for the first 1000 users only)!
Recently Funded Companies Database
Datagma's bot reads more than 80 000 finance and tech news article everyday and thanks to our natural langage processing technology we are able to extract from these articles information about company that are being funded recently before it is widely available to everyone. We can also extract more information about the funding such as the investor name, investment amount, date of investment, etc.
Thanks to our crawling technology, you get more company details such as URL, logo, description, location, industry, employee count, founding year, etc. You can also get personal contact information of the employees such as their email address, phone number and Linkedin profile. We'll talk about it in the next section.
The database is very flexible so you can filter data to get what you want or use sorting to get the priority order. Here are some use cases:
How to find all the companies who have raised $10 million and above in the past one week?
Step 1: Filter the "Funding Date" and select "is" and "one week ago"
Step 2: Sort the table by "Funding Amount" (Z -> A)
How to find all the companies who have raised funds in New York in the last quarter?
Step 1: Filter the "Funding Date" and select "is" and "one month ago"
Step 2: Filter the "Country" and select "is" and "New York"
There's so much more that you can do with this database. Another example is if you're a startup trying to raise funds, you can filter companies based on your sector and see who invested in that sector the most. Contact those investors with your pitch.
I highly recommend you to play around with it and see how you can get so much useful information in just a few minutes.
Our unfair advantage – verified emails only
Datagma is the most accurate email finder tool in the market that provides verified, professional emails only. We have integrated our powerful contact search engine with this database to provide you with the email addresses (and phone numbers) of the key people in these companies. 
All our emails are verified with a deliverability rate of 95% across all industries and markets. And that you can't get from any other tool … certainly not for free!
Most of these "recently funded companies" databases do not provide any contact information or they just provide you with the generic company email or phone number, which is completely useless.
But our funding database provides you with accurate emails that get delivered and phone numbers that get picked up by the founders. And this database is updated daily.
With our database, you can get email addresses of anyone who works in that company with the click of a button and that differentiates this database from any other out there.
3 ways to connect with the founders of recently funded startups
Using this list, you can connect with the founders of companies that are recently funded in three ways:
Send them an email: Get free, verified email addresses of any C-LEVEL in the company. Reach out to them personally with how you can help them or send them a personalized email that's short and to the point.

Connect on Linkedin: You can also get the linkedin profiles of all the people in a company and reach out to them via Linkedin message. You can use a LinkedIn automation tool or not. Keep your message short and concise. You can also refer to the emails that you had sent them.

Call them on their direct dial phone number: With Datagma's mobile phone search, you can get direct dials of any founder or employee. If you have something really useful for them that they should hear about, do not hesitate to call them and let them know after you've sent them an email or contacted them on Linkedin.
There you go! Use these methods to find recently funded companies and connect with their co-founders.
Recently Funded Companies List – Who should use it?
If you're wondering what you can do with this database and whether or not you need this, think of it as a list of companies that have received a large amount of cash which they are going to spend over the next couple of weeks or months to buy new tools, service, hire people and build their infrastructure.
Are you a blogger or a journalist looking to interview the founders of startups, these are your potential interviewees. They are also looking to promote their startups so reach out first before they are everywhere.

Are you a B2B company and are selling your services or products to startups, then this database is your goldmine.

Are you an executive search company? Recently funded startups are going to hire their new Sales Director or CIO or Marketing Head. Reach out and help them.

Are you a MarTech tool? How can you help these companies grow by using your tool? Let them know.

Are you a real estate agent? Well, these growing companies need a larger office next month. Can you find one before your competitors do? Connect with them

Are you looking for a job at a growing startup. ? If yes you can literally go through this database and reach out to the founders directly, before they publish a job announcement and start getting hundreds of CVs.
And you can access this database for free (for the first 1000 users only! Sign up now here).

Please use this database to get a head-start over everyone else in reaching out to these startups in an easy and most seamless manner. Remember not to spam and take the time to learn about these companies and reach out with your personalized request. 
To access the database, just sign up to a free Datagma account and you can get the whole database of recently funded startups and their decision-makers' email addresses and phone numbers  for free. We are offering this service to the first 1000 users for free so don't wait any longer.