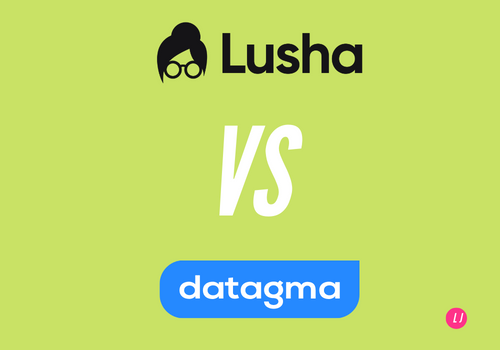 Why is Datagma an alternative to Lusha?
Are you looking for a Lusha Alternative? In this article, we will compare the key points between Lusha & Datagma, including pricing, % of phones numbers found, features, and email accuracy.
Lusha has built a great product to help companies find phone numbers. And suppose you're here because you're evaluating Datagma vs. Lusha or looking for Lusha alternatives. In that case, you're already doing the right thing by finding a product that will help your sales team have more contact information.
However, before engaging, it's essential to compare the pros and cons of each tool before choosing.
We are here to help you decide.
I can imagine that you do not want to read the whole article; in this case, a table summarizes all the pros and cons of using Lusha over Datagma.
Feature
Datagma
Lusha
Price per phone number

$0.58 (Premium plan)

$

0.75 (Premium plan)

Emails included
Yes, between 3750 and 45 000
No. 1 credit = 1 email
Pausing account available
Yes
No, all unused credits are lost at unsubscribe
Credits Roll Over
Yes
Yes
Email verification
Yes, by Neverbounce
No
API Access
Starting at $39 a month
Starting at $7000 a year
CSV Enrichment
Starting at $69 a month
Starting at $7000 a year
Use of filters in the search engine
Yes (Only Fourth)
Yes (More than 10)
Chrome Extension
Yes
Yes
% of phone numbers found US
72%
46%
% of phone numbers found India
77%
44%
Now let's enter in details and check if Datagma could be a real Lusha alternative.
What Datagma and Lusha do
First, let's see what you can do with Lusha and Datagma.
Find contact information for your ideal customers, including email addresses, phone numbers, and social media profiles from a website search engine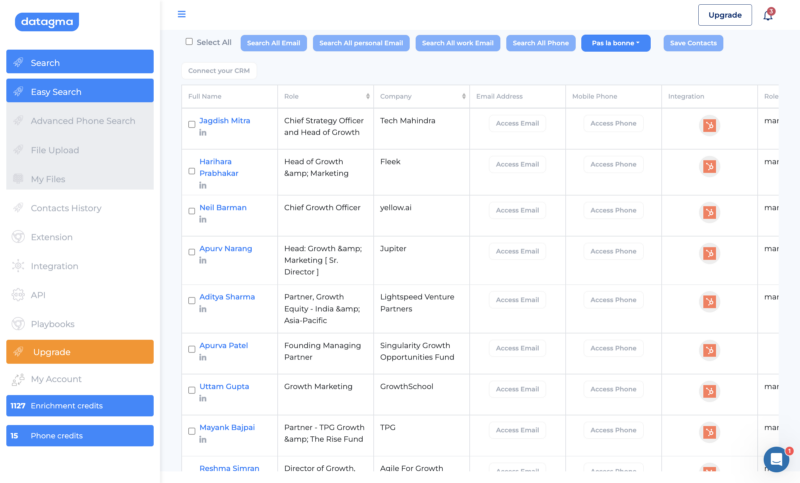 Use a Chrome Extension to find data while you are browsing LinkedIn.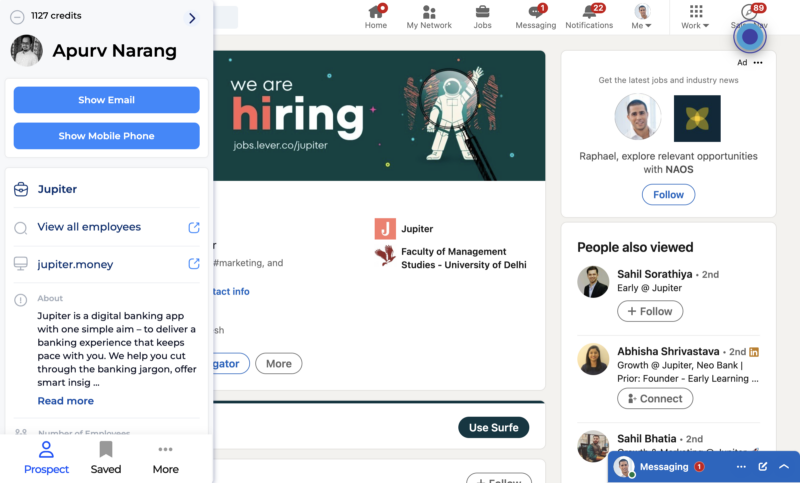 Use File Upload (CSV Enrichment) feature to enrich thousands of contacts with up-to-date mobile phone numbers.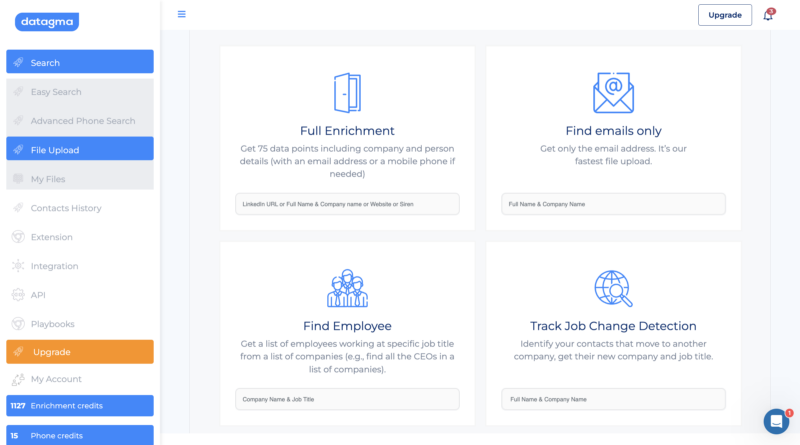 Use API to integrate various tools like CRM, email senders, automation tools, etc., for faster prospections.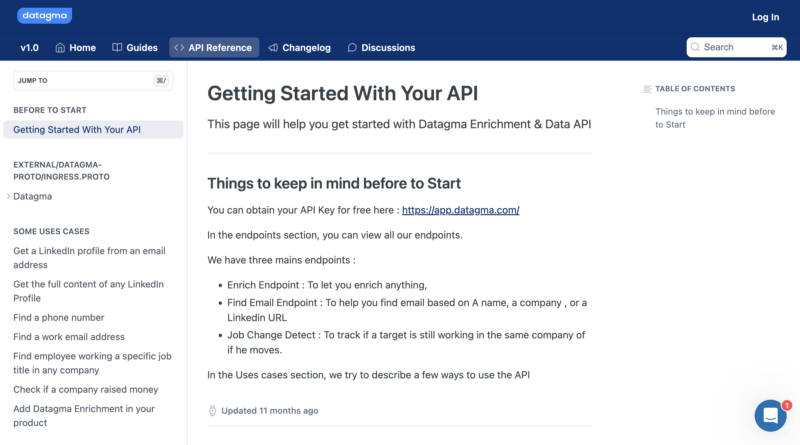 You might be asking – if you could do all these on both platforms, then what's the difference between Datagma and Lusha?
The pros of choosing Datagma as Lusha Alternative
Let's first look at the benefits of using Datagma, then we'll see where Lusha is better;
Datagma found more phone numbers than Lusha
The majority of people are using Lusha to find phone numbers, so when they look for a Lusha Alternativ, they look for a tool able to find as many phone numbers as Lusha;
We realized a simple test: we scraped 400 random people on Linkedin in Linkedin Sales Navigator using Evaboot, a scraping tool. 
Here are the search criteria we used in the order (Location, Title, Headcount, industries)
United States, marketing, 51-200, Software Development & Banking (200 people)

India, finance, 5000 – 10 000, Healthcare (200 people)
We got these files:
Then we enrich it with phone numbers (via the File Upload feature, also named CSV Enrichment) in Datagma. 
For Lusha, we do not have access to CSV Enrichment, so we had to visit each profile manually. It takes 12 hours for a freelancer we hired on Upwork. (and cost us money 🙂 )
Here is what we found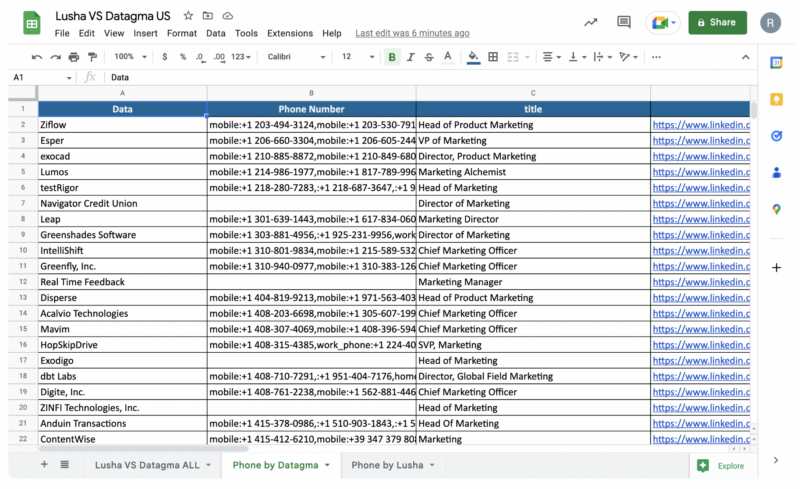 | US Sample | Datagma | Lusha |
| --- | --- | --- |
| Total rows | 200 | 200 |
| Total numbers found | 146 | 92 |
| % of numbers found | 72% | 46% |
| Only mobile numbers | yes | no |
And for the India sample :

| India Sample | Datagma | Lusha |
| --- | --- | --- |
| Total rows | 200 | 200 |
| Total numbers found | 154 | 88 |
| % of numbers found | 77% | 44% |
| Only mobile numbers | yes | no |
So If you are looking for mobile phone numbers, it's better to choose Datagma.
Datagma finds mobile phone numbers by CSV Enrichment.
With Datagma, you can upload CSV or Excel files to find up to 50 000 mobile phone numbers in minutes, while with Lusha, you have to visit each profile to find their phone numbers which is a painfully slow way to prospect. 
This feature alone could save you hours every week if you're planning to make outbound calls.
When choosing the right tool, you must look at the ones that can speed up your prospecting workflow.
Here is an interactive demo about how you can find 10 000 phone numbers same time with Datagma. Click on the blue tooltip to play with the demo.
The CSV enrichment is available on Lusha , but only on their enterprise plan, that start at $7000 a month, while you can enjoy it with Datagma for $69. 
You could also use Datagma's file upload feature to find all the employees in up to 1000 companies at a time:
The File upload feature also allows you to  Track job change detection for up to 1000 contacts
 
If you want to speed up your prospecting workflow, sign up with Datagma now.
Extensive API and integrations available with Datagma
If you want to automate your workflow or connect to your CRM, Datagma has built an open API and ready-made integrations with Zapier, Make, N8N, Captain Data, Clay, Surfe (Leadjet), etc. 

We are working on adding more integrations every month. 
You can even build your own tools integrations, as the API is open and easy to use. 
Lusha also has an extensive API starting at $7000 per year. This can be a substantial amount for most teams. While there's no extra cost for using Datagma API, it's included in all our plans.
Another critical difference between Datagma and Lusha API is that Lusha API will give you the HQ phone numbers, while Datagma will only provide mobile phone numbers.
You can find Datagma API documentation here.
Lower pricing for phone credits with datagma
Lusha charges you between $0.98 (on Pro plan) and $0.75 (on Premium plan), while Datagma phone numbers will cost you between $0.6 and $0.58.
As you can see, with Datagma, each phone number will cost you between 30% and 60% less than Lusha. 
Moreover, with Datagma, you don't pay anything for the landline phone numbers. If we do not find mobile phone numbers, we do not charge you anything. We charge credits only when at least we find a mobile phone number.
There's no add-on pricing. All the integrations, email verification, and API are available in the lower plan in Datagma.
Thousands of verified emails are included with Datagma.
Lusha charges you the same credit for phone numbers and email addresses, which comes to $0.86 on their cheapest plan, while the smallest paid plan at Datagma comes with 3850 work-verified emails included.
With Datagma, you can get 8000 verified emails for $69 a month. 
Our email accuracy and deliverability are higher than Lusha because we verified all the emails with Neverbounce – the industry's more trusted email verification solution. 
With Datagma, you're getting more verified emails, whereas, with Lusha, you're getting outdated data. 
You can use Neverbounce or any other email verification service to verify email addresses from Lusha, but you're going to pay extra and spend even more time on getting accurate email addresses.
 Our pricing is more friendly to bigger teams with higher needs. on emails; 
Hubspot automatic enrichment & Job Change Detection
Datagma provides automatic enrichment of your Hubstpot and Pipedrive (others CRMs are coming). Whenever you create a contact in the CRM, we add relevant information about him and his company, including more than 70 custom properties (Here is the list of enriched custom properties in Hubspot). 
This way, you can customize your outreach, prioritize your inbound leads, assign them to the right sales, do slack alert, once you activate Hubspot Enrichment, there is plenty of things to do.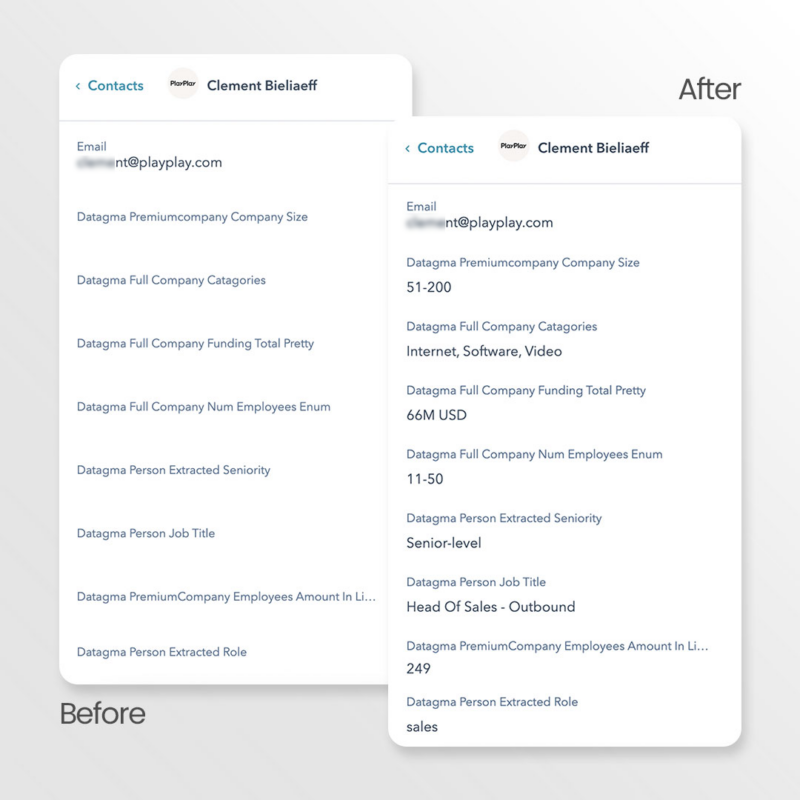 Moreover, when one of your contacts moves to a new company, we can detect this change in real time and inform you, so instead of calling cold people, you outreach warm people who already know you. 
It's easier to convert someone who was already in contact with you than someone you never talked to him in the past. 
The job change detection in Hubspot feature exists in Datagma but not in Lusha, reinforcing our tool as an alternative to Lusha. 
Possibility to pause your Datagma account
Both Lusha and Datagma propose the rollovers on the unused credits.
On monthly plans, your unused credits will continue to roll over each month as long as you have a subscription.
But with Lusha, when you end your subscription, all the credits you have been lost forever. Lusha can put all the credits you paid in the trash.
However, in Datagma, you can pause your account for symbolic fees and keep your credits warm during your pause. Then, when you want to activate your account, your credits will be waiting for you!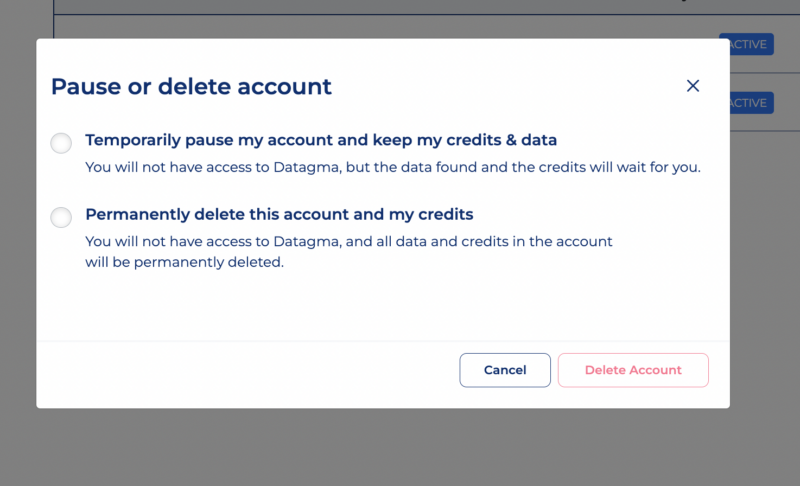 Here is another reason which makes Datagma a solid alternative to Lusha.
Pros of Using Lusha over Datagma 
We suggest Datagma as an alternative to Lusha, but for the reasons below, you might prefer Lusha.
Lusha offers more filters in his search engine. 
As you know, Datagma does not have a database, and we make every request in real time by crawling publicly accessible sources on the internet.
This way, we are sure not to have any outdated data.
For this reason, our website search filter are limited: Full Name, Company, Role, and Location.
If you are looking for more elaborated filters like the technology used, or company size, you will not find them in Datagma.
However, there are several solutions to bypass this.
The best way is to use LinkedIn as your search engine and export and use Datagma to enrich the results.
First, you can use the Datagma Chrome Extension to reveal the email and phone number of targets directly by browsing a LinkedIn profile,
Secondly, you can use a third-party tool like Evaboot to scrap LinkedIn search results massively and then enrich LinkedIn URLs with mobile phone numbers by using the File Upload (CSV enrichment) feature.
Lusha extension offers a lot of possibilities.
Unlike Datagma, the Lusha Extension also works on LinkedIn Recruiters, as the Datagma Chrome Extension works only on regular LinkedIn profiles and LinkedIn Sales Navigator.
Lusha extension also allows the use of Lusha Everywhere.
When you navigate on a website, Lusha can list the employees and the contact information without having to go on LinkedIn. The same option exists when you visit a CRM contact.
This is yet to be possible with Datagma.
Conclusion
These are some significant differences between Lusha and Datagma. Consider these differences when picking an alternative to Lusha.
While Datagma is significantly cheaper than Lusha, it is much faster and more accurate to find information, enrich data, and prospect with Datagma.
Our pricing starts at just $39/month for up to 3750 email searches and 50 mobile phone numbers included in it. 
 If you are an enterprise team, we can scale your prospection just as easily with 100,000 email addresses and up to 50 000+ phone number searches a month. Contact us now.